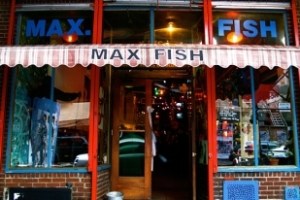 Max Fish was not supposed to make it into February. The much-loved Lower East Side bar — known for its patronage by everyone from Johnny Depp and Courtney Love to the downtown crowd of junkies, artists and junky-artists — lost a battle with skyrocketing rent and announced that it would vacate the space on Ludlow Street it had inhabited since 1989. Those who had stopped by the modest but iconic spot mourned appropriately.
But Max Fish will not, in fact, close at the end of the month. Owner Ullie Rimkus managed to secure a new lease that will keep her bar untouched for at least a year, thanks to a renegotiated deal. "They gave me an extension with no strings attached!" Rimkis told The Observer over the phone.
Happy news indeed, but the celebration seems to have caught The New York Times by surprise. In yesterday's paper there's an article about Max Fish that reads an awful lot like a eulogy with a note about the extension slapped on at the last minute.
We love Max Fish as much as anyone, but it seems a bit gratuitous for The Times to run such a nostalgia-on-sleeve weeper about a place that will keep serving up PBR and Old Crow for another 12 months — especially when the Gray Lady already wrote its "Farewell, Max Fish" piece back in December.
Let's look at how much of the story is written in the past tense.
But Max Fish, with its cheap drinks and bright lights, was the center of it all for two decades, the place to stop before or between shows. Last month, when its owner announced it would close by the end of January because of a rent increase, I started wondering about what made it so cool. The bar was never self-consciously cool, like Moby's Teany. Or anonymously cool like the 12 zillion dive bars around. Its cool was friendly but detached. Its bartenders cordial but with enough attitude that they didn't really give a damn whether you drank there or not.
Yes, memoirist Helene Stapinski is referring to the Max Fish of her youth here, but the sentiment still seems misplaced. The dive's customers prefer those who choose not to wax romantic on Max Fish in The New York Times, especially now that it'll stay open. In the end, Max Fish is just a bar, and that's what makes it great.
Click for Scandal Report: Everything Will Be OK, Taylor Swift >>
nfreeman [at] observer.com | @nfreeman1234