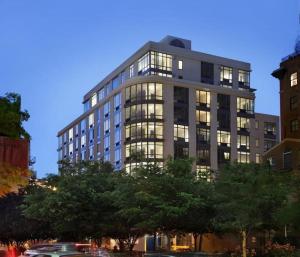 Following his Watergate days, Carl Bernstein became a fixture of New York society, living the uptown life with the likes of Nora Ephron, Bianca Jagger, Martha Stewart, and now his wife Christine Kuehbeck. Yet it seems the sometime rock critic may have gotten hip to downtown living.
The inimitable Jennifer Gould Keil is reporting in the Post that Carl Bernstein was seen apartment hunting in Soho recently. The writer "was spotted checking out two penthouse rentals at 55 Thompson in SoHo. Both are in the $18,000 to $20,000 price range," Gould Keil writes.
So did the long-time Upper East Sider make the downtown jump like everyone else?
The only rental fitting Gould Keil's description is unit 12209, an $18,000-per-month top-floor two-bedroom with a balcony off the master suite. As the listing describes it, "At the intersection of everything you ever dreamt of and above and beyond anything you've ever expected to find in a rental, 55 Thompson is a true gem."
According to StreetEasy, the unit was rented six days ago. Have Bernstein's dreams been realized by this gem? Consider, too, that Kuehbeck tried to sell her Upper East Side one-bedroom co-op last year. She'll certainly fit in in Soho with all the other models and former models, like herself.
The Observer was unable to reach Bernstein for a non-denial denial. Perhaps there is a Deep Throat out there with some clues about the couple's whereabouts.