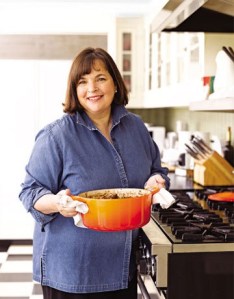 Food Network's Hamptons doyenne Ina Garten has somehow found herself at the center of a magazine rumor mill.
Last night Gawker posted this conflict-of-interest theory about Stephen Drucker's quick exit from Town & Country:
Drucker's longtime partner is high end real estate broker Frank Newbold. Frank Newbold is the business partner of Ina Garten, the "Barefoot Contessa." He [put Garten in the magazine] at Martha Stewart Living…at House Beautiful, Ina Garten (and Nora Ephron) graced the cover of the December 2010 issue of Town & Country…[which] came out just before Drucker's exit.
Keith Kelly gave credence to the conspiracy in today's Media Ink, though he suggested the problem was mostly oversaturation.
"Media Ink has noticed this in the past with House Beautiful, where Garten was a regular columnist until recently. House Beautiful replaced her column with one by Chef Tyler Florence, starting with the February issue. Apparently, nobody at Hearst objected then, in part because circulation was booming and ad sales were growing."
This goes against the Hearst party line, that Drucker left of his own volition, and the Town & Country flack gave Gawker and Kelly the same spiel:
"Stephen and Ina have had a professional and personal relationship for many years. She and Nora Ephron had just published new books at the time – plus they are personal friends – so it made sense to put them on the cover together. Stephen felt they made great T&C subjects, and he was right as evidenced by how well that issue sold."
Hearst publishes Food Network Magazine, so we're betting they couldn't get enough of the cross-promotional, impossibly likable Garten.
kstoeffel@observe.com :: @kstoeffel