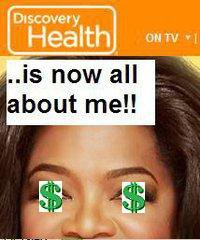 Oh thank God.
When the Oprah Winfrey Network booted Discovery Health from its cable home on January 1, we worried it was curtains for medical re-enactment shows I Didn't Know I was Pregnant and Dr. G: Medical Examiner.
Not so, says Discovery Communications. It's rebranding FitTV as Discovery Fit and Health, reports The New York Times. Discovery will replace the majority of FitTV's exercise shows with Discovery Health's signature extreme medical programming. FitTV is a smaller channel, however, available in only two-thirds of the homes that Discovery Health-turned-OWN is. Some Discovery Health programming, including Mystery Diagnosis, will air on OWN.
The Times' Brian Stelter also points out this precious corner of the internet: Oprah Stole My Favorite Channel, Discovery Health, the Facebook group where fans of Discovery Health convened to send letters and petitions to Discovery Communications.
They took it really personally!
"You have no idea what kind of personal pain she and Discovery Communications caused us by taking our favorite channel away."
"Sorry Oprah, we won't be converted. We liked the Discovery Health channel the way it was. You're not needed in our world."
Where was Piers Morgan on this hot button issue last night?
kstoeffel@observer.com :: @kstoeffel