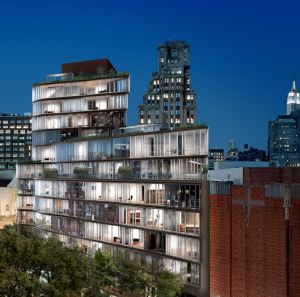 The Journal has a story today about the efforts it's taken to sell the penthouse at One Jackson Square, a wavy glass condo on the northern edge of the West Village designed by the typically-staid-but-a-standout-here KPF and developed by Hines and Aby Rosen's RFR. It took more than a $2.8 million price-cut, to $18.5 million, though. It also took lambswool!
"With the glass walls, people, really needed help conceptualizing how to live in the space," said James Lansill, a senior managing director at Corcoran Sunshine.
A furnished model apartment is nothing new in real estate, but it was Mr. Ford's first such commission from a developer. He took it as a challenge of "warming up" what–despite the curves and unusual architecture–he said was "still a white box, so to speak."

The results were rooms with natural touches, from vintage furniture upholstered in natural linen to wool and silk rugs and rough-hewn wood. There are also tubular kitchen bar stools with seat covers made from very long-haired Mongolian lamb.
So basically, we have this very sleek, very Trek-y apartment–in a building where more than 80 percent of the units have sold–and to offload it, we have to "warm it up." Why wasn't something "warm" built in the first place? Why are so many of our buildings, in this most energetic of cities, suddenly so cold? This reminds The Observer of the fight over the lobby at Jean Nouvel's 100 11th Avenue, which also had to be "softened" by designer Jennifer Post–much to the dismay of Nouvel–even if the softening was done with some very expensive boulders.
Despite the craze begun last decade by Richard Meyer and his Perry Street lofts, which led to an invasion of glassy, office-park condos across the city, the throwback work of Robert A.M. Stern still outsells them all. Of the top selling apartments last year, all were either in old coops, new condos that looked like old coops or loft buildings and the assorted mansion.
Consider this exchange from this week's New York magazine, where critic Justin Davidson and a panel of architects and historians try to determine the city's Best Building Ever:
Bernard Tschumi: Every one of those buildings [the High Line, the New Museum] is a bad "citizen"–in a good way. Before 2000, everything was about being contextual, and buildings were supposed to be good citizens. And when somebody from out of town asked me what new architecture to see, I had a hard time giving them an answer. Now I can tell them about all these exciting new buildings that break the pattern and don't play the typical New York game of the podium with the tower on top. So suddenly we have buildings that no developer in their right mind would build- but they did.

[…]

Robert A.M. Stern: Well, the buildings that entertain Bernard's friends, who jet in from wherever, don't really make any contribution except as big art objects. The city can take them, but what are they telling us? They don't offer any new insights about how people live, or about the relationship to the street or to the sky. Just a new curtain wall, and a strange one at that. To be a good citizen is to work with the city and not against it.
While the rest of the eight panelists tended to disagree with Stern on this point, is it any surprise that all but two of them, who voted for the Whitney, determined that our greatest building of all time was none other than the nearly centutry-old Grand Central Terminal? Perhaps we are a bunch of old fuddy-duddies after all.