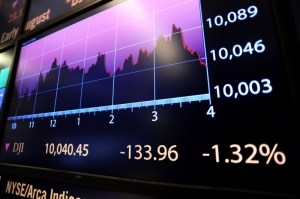 Dear Diary,
I added a very few points today — 14, to be exact. That's a modest gain, but I can live with it. And there were some nice things to cheer about. The Federal Reserve, for example, released its minutes from a December meeting, and there's not much sign that the central bankers are interested in slowing down their money-printing quantitative easing regime. Theoretically, that's good for stock prices, so I'm welcoming that news.
I was also excited to see some of my buddies on Wall Street — Bank of America and JPMorgan Chase in particular — may be gearing up to settle those pesky foreclosure-related suits with the 50 attorneys general. Plus, no criminal charges for bankers! Is this justice system totally functional or what?
I've been really interested in friending this Mark Zuckerberg character, loved his movie and can't get enough of his website. At first I thought this deal between Facebook and Goldman was going to help the company go public. But now I'm a little suspicious that this is some kind of "semi-private" IPO, and I won't get my hands on any Facebook stock for quite a while. I'm definitely friends with Goldman, but I guess you could say "it's complicated".
See you tomorrow,
The Dow Jones Industrial Average