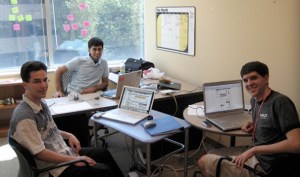 New York startups in need of a little acceleration will welcome DreamIt Ventures, which is making its entrance to the New York technology scene by opening a Manhattan outpost.
Philadelphia-based DreamIt provides a maximum of $25,000 in seed funding–$5,000 plus $5,000 each for up to four team members. In addition to the money, DreamIt offers one-on-one mentorships, introductions to venture capitalists and angels, a speaker series and a work space. The company accepts both individuals and companies as applicants. This year's program starts in May and ends in August.
Companies that have been involved in DreamIt include Parse.ly (which just raised $800,000), ad platform provider Adapt.ly and gaming company Mind Snacks.
mtaylor [at] observer.com | @mbrookstaylor