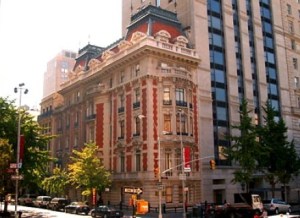 It wouldn't have been the biggest real estate deal of the year without at least a little drama.
When Tamir Sapir sold the majestic Duke-Semans Mansion across from the Met to Carlos Slim last summer, the brokers representing the seller, Brown Harris Stevens' Paula Del Nunzio and Shirley Mueller, sued Sapir when the deal was arranged on the side by Slim's own real estate swami, up-and-comer Soly Halabi. The brokers had already found a buyer at $37 million, below the $40 million Sapir first paid, while Halabi turned up Slim with a much wider $44 million offer.
In the suit, the BHS brokers alleged that Sapir waited just long enough for his contract with them to expire so he would not have to pay an $880,000 commission. It would have been a costly arrangement for Sapir, whose real estate empire and health are in decline.
Sapir worked out a deal with Del Nunzio and Mueller after all, settling last month, according to The Times, though the details have not been disclosed.
Which means we can put the whole ordeal behind us and focus on what really matters — the kinda-sorta-once-again Go-Go high-end market. The important thing is that the sale occurred," Del Nunzio told The Times. "A $44 million sale occurred in these current market conditions. That is utterly phenomenal."