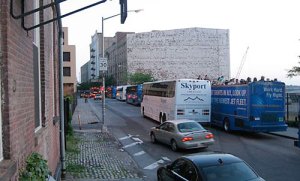 Those effete, entitled Brooklynites are at it again. Now they want tour buses all but banned from Brooklyn Bridge Park.
The issue, according to The Brooklyn Paper, is not the tourists themselves–never!–but the fact that the streets surrounding the waterfront have gotten clogged with tour buses, double- and triple-parked ever since the brand-new, bucolic-as-it-gets-in-this-city-of-ours park opened last year.
The DOT is going to up enforcement and add a new median to try and address the problem, with five new parking lots promised for who knows when.
But is that really the issue? The Observer abhors tourists as much as the next guy, but the nerve of these Brownstone types surpasses even that of our flood of faux foreign friends. First they demand no condos in the park, then no taxes, followed by no helicopters and now no tour buses.
Before you know it, this'll just be another Grammercy Park under lock and key, with admission reserved solely for the Brooklyn elite. (Which is really everyone living in the borough, isn't it?)