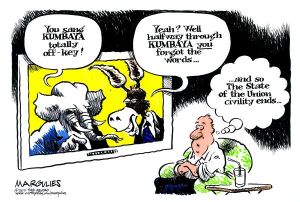 The State seized control of Nassau County's finances.
Illinois Gov. Pat Quinn is miffed at Chris Christie for trying to steal his state's business: "I don't know why anybody would listen to him."
Does the CityTime scandal kill Giuliani's presidential prospects?
Comment on Ben Smith's blog, and you may become FoxNews superstar

Bloomberg wants to keep juvenile offenders closer to their home communities. But what happens then?

Dana Rubenstein profiles Cuomo communications director Richard Bamberger.
A profile of the late Mr. Aly, the former butler for Meet the Press.

Dean Skelos called congestion pricing "just another tax."
Teach for America founder Wendy Kopp says that being chancellor of the city's schools would be "a dream job."

Sampson to Skelos: The Majority may Rule, but in a deliberative democratic process, the Minority still has Rights

NY Mag wonders if Rachel Sterne, the city's new 27-year-old chief of digital operations, is Cathie Black redux.

The Conservative Party is roboing against Shelly Silver.
Redistricting could have big impact on the Congressional Black Caucus.

Eliot Spitzer calls The Republican approach to the federal budget "vapid and dangerous for our future."
"If a nonpartisan committee were to ever draw anything close to fair lines, Democrats would have the majority by something like 38-24," said Professor Andrew Beveridge, a redistricting expert who has studied New York's population shifts. "Senate Republicans will always be on the edge."

Anthony Weiner says that Michelle Bachmann has lost contact with the mothership

Lincoln Restler was at the White House Christmas Party. Look for the G.O.P. to take Kings County in 2012.