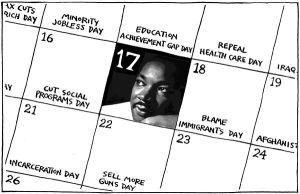 Andrew Cuomo hired Leecia Eve.
The Department of Consumer Affairs says that it is now satisfied that the Spiderman musical is conducting truth in advertising.
Chuck Schumer is preparing to give Chinese president Hu Jintao a scolding for surpressing the value of Chinese currency and for hoarding rare earth metals.

Al Sharpton backs a living wage for NYC.

The Black, Puerto Rican, Hispanic and Asian caucus is cautious about Andrew Cuomo.
Cyclists don't like Eric Ulrich's licensing plan.
The average taxi fare is a dollar higher than it was last year, a report concludes.
Scientists say that today could quite possibly be the most depressing day of the year.
A state senator wants to ensure the mentally ill don't have access to guns.
Bloomberg defended Cathie Black's joke about overcrowding.
Sen. Gillibrand knows it's about the economy, stupid, but also wants to push for marriage equality.
Bloomberg is certain of a Jets Superbowl berth and will be there, as long as Rex Ryan doesn't tell him what to do.
A debate over separation of powers is impeding Congressional corruption probes.
Whether Gabrielle Giffords continues to serve in Congress is up to her.
The FBI doesn't want to play second fiddle to the NYPD.

Michael Steele's greatest hits.