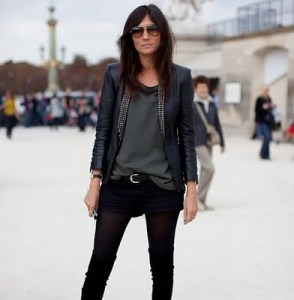 Today Vogue Paris announced fashion director Emmanuelle Alt will succeed Carine Roitfeld's as editor in chief, reports the Huffington Post.
Naturally, Alt's a very stylish lady. And like many stylish ladies who are photographed all the time, Alt has a signature pose.
Where it gets weird is that her pose–standing straight, right leg out to the right, toe pointed–is an only slightly subtler version of one of Michael Jackson's workhorse dance moves.
Combined with her proclivity for tight pants and embellished jackets (oh, and her boyish skinniness) we've come to this conclusion: The new editor of Vogue Paris has Michael Jackson legs.