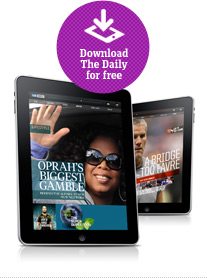 Rupert Murdoch has postponed the debut of his e-reader newsletter The Daily for "weeks, not months," according to Media Memo.
He had planned to launch next Wednesday at San Francisco Museum of Modern Art, joined by Steve Jobs.
Apple reportedly needs more time to build the "push" subscription model–in which iTunes automatically bills customers monthly and a new edition is delivered to customers' iPads every morning–into the iTunes store.
Fair enough. That sounds even more complicated than staging a new ending for a $60 million play about a genetic mutant who flies.
kstoeffel@observer.com :: @kstoeffel