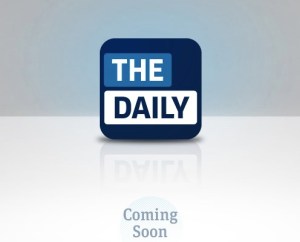 So this is happening! The Daily launch party will be held at the Guggenheim Museum on the morning of February 2. It was originally to be at MOMA in San Francisco. According to the invitation, Eddy Cue, VP of Internet services for Apple, is standing in for Steve Jobs, who is on medical leave.
Eddy Cue's title is unsexy but he's hugely important at Apple. He runs iTunes and the App Store, which, revolutionary in their own right, are also crucial to the The Daily's reported business model: the first iPad push subscription. Push subscriptions build customer loyalty through consumer credit card habits–small, automatic, monthly charges–and enable each The Daily to be delivered to the iPad each morning, instead of being individually purchased.
Now we just need The New York Times paywall, a Gawker redesign, a Spiderman musical, and a News Beast, and then it will officially be 2011.
kstoeffel@observer.com :: @kstoeffel