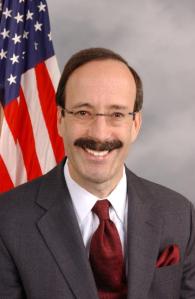 Eliot Engel has been getting some notoriety this week as a SOTU "aisle hog," one of those members of Congress who camp out, sometimes for up to ten hours, before the President's State of the Union address in order to greet the president and maybe get a little TV face time to boot.
In a brief phone interview from the Democratic cloak room yesterday, Engel said that after 22 years in Congress, his constituents would get worried if they did not see him on the House floor during the annual address.
"Now what's happening is that people look for me," he said. "If I wasn't there people would think I was sick or something. I want my constituents to know that I am well."
Engel even went so far as to find a SOTU seating buddy who was a fellow aisle hog, so he could participate in Sen. Mark Udall's call for a bipartisan seating arrangement without giving up his precious spot on the floor.
Engel also said that Obama's speech struck "the right tone at the right time."
"These are times when people are looking for elected officials to pull together," he said. "If there was one theme of the speech that he wanted to convey it was that America's best time is ahead of us and not behind us and we need to pool our thoughts and resources and to pull America together."
But while Engel said that he appreciated that Obama didn't back down when it came to issues like health care, he said that he opposed Obama's proposal about a spending freeze, calling it arbitrary.
"I think we need to be intelligent enough to pick and choose. There are programs that may need more funding because they are doing a good job, and there may be programs that need less funding because they aren't doing a good job," he said. "I don't know how you can do more innovation and do a spending freeze."
He added that he thought the call for a spending freeze was an effort to blunt Republican calls for greater reductions.
Engel did concede, however, that the president "wasn't laying out details, he was laying our principles."
"I support him. I voted for him once and I will vote for him again."
And for more on aisle hogs, check out this report from ABC News: