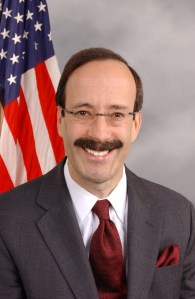 After the swearing-in ceremony for state Comptroller Tom DiNapoli yesterday afternoon, Congressman Eliot Engel took a moment to reflect on the attack on Congresswoman Gabrielle Giffords in Arizona.
"I'm shocked, I'm very sad," he said. "Gabby Giffords is a very close personal friend of mine, one of my best friends in Congress. I've known her since before she ran for Congress. She is about as caring and as nice a person as you can find. It just breaks my heart."
Giffords served on the Western Hemisphere subcommittee, which was chaired by Engel, and he said that his son, who attended the University of Arizona in Tucson, worked on her campaign.
"It's not only an attack on her, but on our democratic way of life, and that's what makes it so scary," he said. "You always know as elected officials that if someone wants to do you harm, they probably can."
Engel said he was part of a bipartisan conference call yesterday with lawmakers and law enforcement agencies, but he wasn't sure exactly what could be done to safeguard the security of members of Congress.
"A lot of people have been asking me, am I going to change the way I do things? You know, you can't change the way you do things. If you want to be effective, and you want to meet your constituents and hear what they have to say, they've got to have access toward you."
Asked if he thought the heated rhetoric of the recent election cycle played any role in the attack, Engel said:
"We don't know, we don't know. But if you have someone that's got emotional problems, or has difficulty, and they hear the rhetoric, you don't know what sets people off. This guy could have been set off by that rhetoric. And Sarah Palin with Gabby Giffords with a bull's eye on her head–crosshairs–that doesn't help anything."