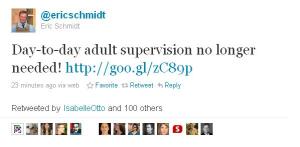 In a surprise announcement during today's earnings report, Google announced that CEO Eric Schmidt is stepping down, to be replaced by founder Larry Page.
Mr. Schmidt will become executive chairman and will focus externally on deals, partnerships, customers, broader business relationships and government outreach.
Mr. Page will now lead product development and technology strategy, his greatest strengths, and starting from April 4 he will take charge of our day-to-day operations as Google's Chief Executive Officer.
Sergey Brin, the last of the triumvirate at the top of Google's management team, will devote his time and energy to strategic projects, in particular working on new products.
It's a shocking announcement, but not totally unprecedented. Schmidt's earned a bad rep in 2010 for putting his foot in his mouth on sensitive issues like privacy. Or as Schmidt put it on Twitter…
bpopper at observer dot com | @ben popper