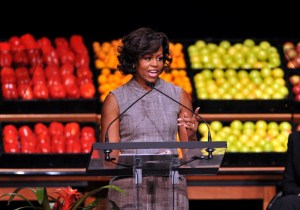 New York politicos have been lining up to fight Walmart for months now, as the national retailer attempts its third incursion into the city. Yet they may have just met their match in the first lady.
Michelle Obama has made combating childhood obesity a signature part of her agenda while at the White House. She's planted a vegetable garden, taken on soda pop, and now she has teamed up with that most red-state of retailers, Walmart, as the big bad big box launches a new program of carrying healthier food.
"When 140 million people a week are shopping at Walmart, then day by day and meal by meal all these small changes can start to make a big difference for our children's health," Obama said at an event today in Washington, according to NPR.
This is not the first time Walmart has tried to woo upscale (some might say effete) shoppers with new merchandise. A few years ago, the retailer began pushing CFL light bulbs and high-efficiency appliances, a line aimed more at hippie uncles than NASCAR dads.
Whether the health foods initiative will sway New Yorkers remains to be seen. Here is what the company is proposing, according to a release:
Reformulating thousands of everyday packaged food items by 2015 by reducing sodium 25 percent and added sugars 10 percent, and by removing all remaining industrially produced trans fats.
Making healthier choices more affordable, saving customers approximately $1 billion per year on fresh fruits and vegetables. Walmart will also dramatically reduce or eliminate the price premium on key "better-for-you" items, such as reduced sodium, sugar or fat products.
Developing strong criteria for a simple front-of-package seal that will help consumers instantly identify truly healthier food options such as whole grain cereal, whole wheat pasta or unsweetened canned fruit.
Providing solutions to address food deserts by building stores in underserved communities that are in need of fresh and affordable groceries.
Increasing charitable support for nutrition programs that help educate consumers about healthier food solutions and choices.
Combined with Walmarts plans for smaller stores, this program could pose a real threat to Walmart opponents, especially the targeting of New York's food deserts. (Consider the success Councilwoman Tish James had in besting preservationists at the Brooklyn Navy Yards to make way for a grocery store there.)
Still, critics are already pushing back. The group Walmart Free NYC points to a study released yesterday that links Walmart to obesity. "Walmart's rhetoric doesn't match reality," Bertha Lewis, the president of the Black Leadership Institute said in a release. "They promise to create jobs- but they just squeeze out the little guy. Now they're promising to promote healthy foods. The fact of the matter is, right here, right now, they're contributing to the obesity epidemic."
It seems unlikely Michelle Obama would campaign for Walmart in New York, but the first couple remain hugely popular, particularly in the city's minority neighborhoods. Could this PR stunt help sway Walmart skeptics? If nothing else, Obama has certainly stolen a smidgen of Sarah Palin's thunder. How do you like them cookies now, madame governor?