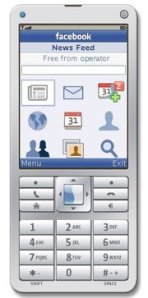 Late adopters hold your heads high, Facebook is now available for old-school phones.
The company announced in a blog post Wednesday that it will be rolling out the Facebook app to the some 2,500 different kinds of feature phones folks use all over the world.
Before you get too excited, this isn't about you, at least not if you're American.
Facebook has partnered with app maker Snaptu to launch this service in Poland, Singapore, Hong Kong and the Domican Republic.
Although white iPhones may dominate the tech discussion in America, most of Facebook's 650 million users are still on feature phones.
In fact, this version is a little more complex than 0.facebook.com, a super simple mobile site the company launched back in May of 2010 aimed at users in the BRIC nations and Africa.
Smartphone users now feeling less special should blow off some steam with Angry Birds.
What if The Social Network Were About GroupOn >>
bpopper at observer dot com | @benpopper