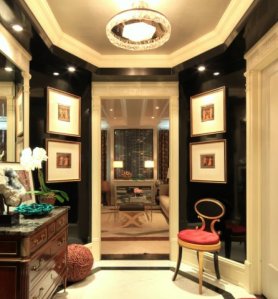 Interior designer Philip Gorrivan and family retreat to a glamorous, colorful apartment where everyone from growing children to a large standard poodle can feel at home.
SLIDESHOW: Family Style on the Upper East Side
In Manhattan, where space is at a premium, many families with young children abandon all hope of a glamorous adult life. Interior designer Philip Gorrivan and his wife, Lisa, however, manage to have the best of both worlds with an elegant Upper East Side apartment and two energetic children, 11-year-old Isabelle and 8-year-old Charlie. Philip Gorrivan's career began in the business world, on the publishing side of Hearst magazines and later in venture capital. He began to decorate as a career when encouraged by friends who liked what they saw when they came by the family's home. "I always loved design and was always interested in building a business in that field, and finally I had the opportunity to make this a reality," explains Gorrivan. Today, he is included in the lists of up-and-coming designers, with work regularly included in all the decorating magazines. His corporate background may well explain the orderly precision of his work on his own home. The bright red kitchen banquette and chairs are upholstered in a sturdy child-friendly leather. The living room is accessorized with books in neat piles on tables and shelves-no brittle china and glass here with young children around. Isabelle and Charlie have colorful rooms of their own, placed off the living room to create a distinct space for them to enjoy during play time not spent at the family's sprawling Connecticut country home. There, they go shopping with their mother in local farmers' markets, accompanied by Leo, the family's large standard poodle.
The apartment was purchased more than three years ago and took about a year to redo. It was two spaces quite recently joined together, and Gorrivan reworked the combined apartments so that they were more logically connected. The second home's kitchen became a large, well-planned laundry, an essential room for a young family, and what was once a dining area is now a cozy family room, enveloped by a sectional sofa upholstered in fabric designed by Gorrivan for Highland Court. The black lacquered foyer provides a note of whimsy: "I always wanted to do an octagonal entry, and this element, although in its raw state, was what sold us on the potential of the apartment," says Gorrivan. "I was inspired by Dorothy Draper's black lacquered lobby for the Carlyle Hotel." The sophistication of the entry sets the stage for the overall tone of the apartment, as does the very personal choice of art. The wall behind the dining area in the main room is hung with a collection assembled by Gorrivan over the years. Old Master drawings from the 17th to the 19th centuries mingle with a nearby photograph by Michael Wolf that can be seen from the entry. Gorrivan insists his poodle, Leo, was not the inspiration for the colors of the apartment. After all, he arrived after the family had moved in. Somehow, though, he blends in perfectly with the browns and beiges of the main living room. France, especially Yves Saint Laurent's Paris apartment, was another strong influence for the apartment's design, and Gorrivan travels there whenever he can. His fabric line for Duralee/Highland Court recently appeared in the prestigious Maison et Object trade show in Paris, and in fact, Gorrivan's apartment could pass for a chic and modern place in the 6th Arrondissment. But he is happy here in New York, especially now that he has found his true métier.
SLIDESHOW: Family Style on the Upper East Side