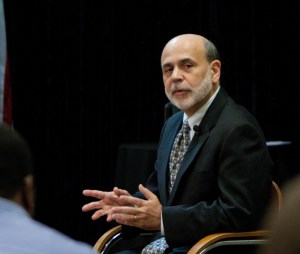 The Federal Reserve today released the minutes from its Dec. 14 meeting to determine just how much money it would create out of thin air as part of its continuing effort to stimulate the economy.
The Fed determined that labor demand was increasing but not enough to stave off high levels of unemployment. Industrial production increased, as did consumer spending, but the housing market remained a tremendous threat to prosperity. Stock prices rose, an outcome the Fed would deem as desirable, as the wealth effect of low interest rates is a key justification for monetary stimulus. The inflation that the Fed seeks remains elusive:
The underlying rate of consumer price inflation in recent months was lower than the staff expected at the time of the November meeting, and the staff forecast anticipated that core PCE prices would rise a bit more slowly in 2011 and 2012 than previously projected. As in earlier forecasts, the persistent wide margin of economic slack in the projection was expected to sustain downward pressure on inflation, but the ongoing stability in inflation expectations was anticipated to stem further disinflation. The staff anticipated that relatively rapid increases in energy prices would raise total consumer price inflation above the core rate in the near term, but that this upward pressure would dissipate by 2012.

[…]

Regarding their overall outlook for economic activity, participants generally agreed that, even with the positive news received over the intermeeting period, the most likely outcome was a gradual pickup in growth with slow progress toward maximum employment. […] Regarding the outlook for inflation, participants generally anticipated that inflation would remain for some time below levels judged to be most consistent, over the longer run, with maximum employment and price stability.
It doesn't appear for the moment that the Fed's controversial policy of buying long-term Treasury and other securities is on pace to moderate, let alone reverse. Somewhere, David Einhorn is expressing moderate frustration at this.
mtaylor [at] observer.com | @mbrookstyalor