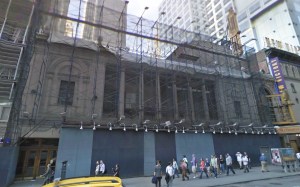 Last month, The Times declared the redevelopment of its eponymous square complete after three decades of shuttering peep shows, erasing graffiti, building office towers and importing tourists.
Yet it turns out there was one tiny piece of Times Square remaining to be redone–waiting 20 years, in fact. That is how long the Times Square Theatre has been shuttered, after being one of the Great White Ways premier venues. And then, in the '80s, it was a kung fu theater. Now, Steve Cuozzo

reports, the Times Square Theatre will become another blinged out attraction.
Sources said that if all goes according to plan, the multi-level, 30,000 square-foot space will be home to an entertainment spectacular called Broadway 4D — "a kind of Las Vegas version of Broadway past and present," as an insider described it, drawing on live talent as well as multi-media effects.
Just what Broadway needs, a little more Vegas. (Really, that's probably backwards–everything Vegas ever learned, it learned from us.)
Still, it is good to see this space, on the north side of 42nd Street between 7th and 8th avenues, finally being redeveloped, as well as being up for landmarking, according to Cuozzo. Most recently, the theater was set to become a Marc Ecko superstore, a plan that dragged out from 2004 to 2009. And before that? "Nearly every kind of retail and entertainment use has been proposed for the site — including one by Warner LeRoy to create a Venetian restaurant fantasy complete with canals."