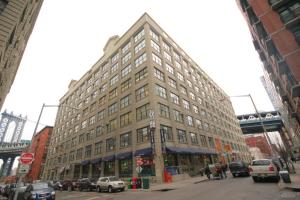 55 Washington Street
Dumbo has played host to more (and classier) weddings than a Las Vegas chapel, but the neighborhood has always lacked a flower shop. At last, Gramercy Park Flower Shop will bring blossoms to one of the city's more romantic locales. The store has taken 1,200 square feet of retail space and 1,400 square feet for an office in a newly converted warehouse that faces Adams Street.
The leases are for 12 years, and the asking rent was $30 a square foot.
"A lot of people say it seems like a big space for a flower shop," Two Trees Management's Caroline Pardo told The Commercial Observer. But she said the loft-like store means customers can watch the florists putting together arrangements. In addition, the store will also offer landscaping and outdoor furniture. "It's not," Ms. Pardo said, "just a typical, run-of-the-mill [florist]. They needed a slightly larger space."
Ms. Pardo said an additional 20,000 square feet of ground-floor space is available in the building, which landlord Two Trees hopes to rent to an office tenant in need of street frontage, such as a design firm, a public-relations company or an architect.
"It has a lot of character," she said, with an open floor plan and three entrances.
Gramercy Florists has three Manhattan locations, but this is its first Brooklyn venture. Alas, for Valentine's Day this year, it will still be chocolates and no flowers for Dumbo gals and guys because the shop won't be up and running until March.
Ms. Pardo represented the landlord in-house, and Aliza Weston of Legacy Real Estate represented the tenant.
lkusisto@observer.com