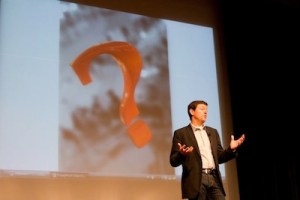 It's okay to buy the shares in Facebook (META) that Goldman Sachs is selling, says Union Square Ventures founder and startup oracle Fred Wilson, but don't expect him to get in on the impending internet IPO firestorm.
In a blog post this morning, Mr. Wilson says that he's not personally interested in investing in Facebook, LinkedIn, Groupon, Demand Media or Skype. But that doesn't mean that buying now would be a bad idea:
[W]hen friends have privately asked me whether they should take some of the Facebook shares their Goldman representative has offered them, I mostly tell them I think they should. I don't think anyone should bet their net worth on Facebook at $50bn, but I think it is a pretty good bet that Facebook will one day be worth more than $50bn. Is it today? Hard to say.
Basically, Mr. Wilson thinks valuations on internet companies are a little rich, but that doesn't mean investors can't profit on them. One message is clear, though: He's keeping his own money on the sidelines.
mtaylor [at] observer.com | @mbrookstaylor