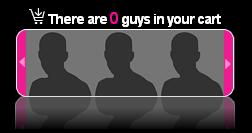 The six weeks between New Year's and Valentine's Day are the busiest time of the year for the online dating industry, well-represented in New York by startups like HowAboutWe, AreYouInterested and OKCupid.
Online dating is becoming more mainstream (the Economist says it's "no longer an act of desperation"!) as Americans live more and more of their lives on the Internet, and realize how good it is for finding people who are just like them.
But the concept still has a ways to go. One of the biggest problems with online dating services is that men seem more willing to use them than women (just browse the date ideas at HowAboutWe).
Or to put it bluntly: Online dating is still a sausage party.
AdoptAGuy considered this challenge when it came up with its "Supermarket of Love" concept. The Lady browses through profiles, selects desirable gentlemen and renders them to a shopping cart. The chosen fellas are now permitted to contact The Lady.
AdoptAGuy is the American version of Frenchman Sebastien Sikorski's site AdopteUnMec.com. It has registered 26,000 users since launching in early November; 32 percent of whom are in New York.
Men can still initiate contact by sending a "charm" indicating interest for women who prefer to be approached first. Men can "charm" 10 ladies a day.
"AdoptAGuy makes shopping for men as easy as shopping for shoes," PR rep Thomas McHardy wrote in an email.
We'll not address how using the service compares to DSW. But it does put some distance between cautious female singles and men who want "CANDLES SOFT MUSIC SLOWDANCING ROSE PEDDLES," as one HowAboutWe user recently advertised.
ajeffries [at] observer.com | @adrjeffries