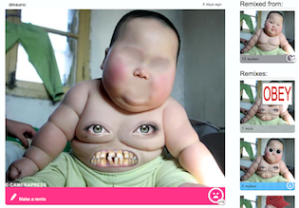 The new startup from 4chan's Chris Poole a collaborative, image-centric forum called Canvas, is rolling out invites a few at a time starting today.
Users upload images and remix them using Photoshop and a rudimentary photo editor inside Canvas, according to TechCrunch. Images can be upvoted or downvoted. It reminds us of Dump.fm, an image-centric chatroom that demo'ed at the January New York Tech Meetup. Eventually Canvas will add audio, rich text and video.
4chan users have a reputation for being immature pranksters whose bad behavior is encouraged by the site's total anonymity and the absence of an archive. Canvas is obviously going in a different direction. New users requesting invites must sign in with Facebook Connect, which attaches real names to user accounts that would be revealed to any Facebook contacts who are also signed up for Canvas.
"During the beta period we are using Facebook Connect to validate users and handle invitations. Only your friends already using Canvas will be able to see your photo and name, and only on the invite page," Canvas said on its blog.
Authenticating with Facebook may be necessary in order to keep out the trolls that have made 4chan their playground.
Mr. Poole, now the entrepreneur-in-residence at Lerer Ventures, has gotten some investment for the project. Canvas hopes to build a forum that's more monetizable than 4chan, which runs ads almost exclusively for anime and porn. If Mr. Poole wants Canvas to appeal to the big kids, he needs to ditch some of his old crowd, and real ID seems to be his solution.
ajeffries [at] observer.com | @adrjeffries