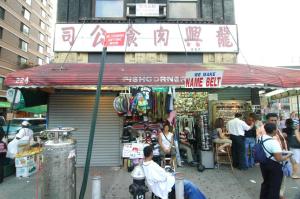 If they can fancy-up the Fulton Mall, it was only a matter of time before Canal Street went upscale. The tourist-clogged thoroughfare is getting a new hip Asian bistro from Tom and Anthony Martignetti, according to DNAinfo.
As if the first haute hangout on the strip weren't news enough, in a harbinger of gentrification at its finest, the brothers behind Brinkley's and Southside in neighboring Soho will be taking over a storefront that has been shuttered for three years, since it was raided by the city for selling counterfeit goods.
The new eatery sounds like Kenmare-meets-Momofuku:
Now, the Martignetti brothers hope to turn the crumbling interior of 230 Canal St. into a 6,000-square-foot bar and restaurant, with seating for about 180 people.

The duo has hired chef Keith Harry, the consultant chef at Macao Trading Co. and longtime sous-chef at Chanterelle, to craft an Asian-inspired menu for the as-yet-unnamed establishment.

Proposed dishes include spicy lamb and eggplant dumplings, a bun sandwich of shrimp and snow pea leaves with miso mayonnaise and a lobster hot pot with curry, sauterne and lo mein.
In a show of unmitigated enthusiasm for the transformation, the normally bar-averse Community Board 1 granted the new establishment a 4 a.m. closing time Thursday through Saturday.