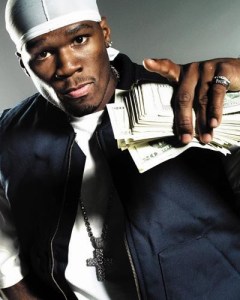 How much is a tweet from 50 Cent worth? According to analysis by Joe Weisenthal at Business Insider, about $50 million. 50 Cent has been tweeting about over-the-counter shares in penny-ante company H & H Imports this past weekend, and the stock closed up 240 percent at 39 cents. Before anyone piles in at tomorrow's opening bell, here are a few words of caution, courtesy H & H's latest quarterly filing:
During the fiscal year ended March 2010, H & H lent $141,000 to "an entity in which our Chairman's brother is an officer and owner."
The company claimed losses of more than $1.3 million dollars in the most recent quarter and $3.3 million since its inception.
The CEO of the company "loaned the Company funds to meet short-term working capital. These loans totaled $107,000 and $107,513, with related accrued interest of $4,494 and $2,321 at September 30, 2010 and March 31, 2010, respectively."
Mr. Weisenthal of Business Insider says the company distributes headphones, but this Bloomberg company profile, published today, tells a slightly different story:
As of May 28, 2010, H & H Imports Inc. was acquired by TV Goods, Inc., in a reverse merger transaction. H & H Imports, Inc., a development stage company, engages in the wholesale purchase and sale of women's handbags. It focuses to sells its handbags to beauty salons, nail salons, beauty supply stores, and women's health clubs. The company was founded in 2006 and is based in Plantation, Florida.
The Yahoo! Finance profile offers a similar characterization. Here's an SEC filing dated Dec. 9 disclosing 50 Cent and G-Unit Brands' Nov. 30, 2010 transaction with H & H, in which the rap mogul bought $750,000 worth of shares and warrants in the company. If he were to sell today, it's likely he would have made quite a handsome profit.
Update: 50 Cautions Investors His Penny Stock May Not Be Right For Them >>
mtaylor [at] observer.com | @mbrookstaylor