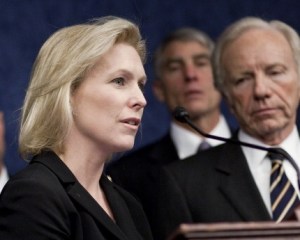 Senator Kirsten Gillibrand is on board Air Force One, traveling to Tucson with President Obama, according to a statement that was just emailed by her office.
Gillibrand and Congresswoman Gabrielle Giffords were close friends, and dined together with their husbands in Washington D.C. last week. Gillibrand will travel to the University of Arizona Medical Center, where she will meet with Giffords' husband, Mark Kelly, and other staffers and victims of Saturday's shooting.
As an upstate congresswoman, Gillibrand often met with constituents at local grocery stores, a tradition she's continued with frequent "Senate at Your Supermarket" events. On a trip upstate earlier this week, Gillibrand said that kind of access wouldn't change in the wake of the shooting.
"That is who we are, it's why we're in public service," said Gillibrand, according to a YNN report. "It's part of our fundamental job requirement, to listen to talk to debate and then bring those ideas to Washington and then represent the values and priorities of the constituents that you represent."
The release came with this statement from the senator:
"Dr. Martin Luther King Jr. said that only in moments of darkness, can we see the stars. I hope in this time of sadness and loss, we can find new strength to come together as a nation and foster greater respect for one another.

"We may never make any sense of this heinous crime, but I remember how Gabby so often urged people to stand up to the violent language that divides us, and focus on solutions. That is exactly what we need to do right now.

"I want to thank President Obama for his compassionate leadership at this time of great national tragedy. My thoughts and prayers are with all the victims of this horrible tragedy, their loved ones, and with all Americans as we struggle to move forward together."