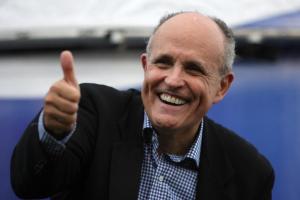 Former New York City Mayor Rudy Giuliani appeared on "The Kudlow Report" last night and said that he was "absolutely" considering running for President in 2012.
"I will take a look at 2012," he said. "It's really a question of, can I play a useful role? Would I have a chance of getting the nomination? Those are things that I'll have to evaluate, you know, as the year goes along."
Giuliani was on the show to talk about yesterday's big mob round-up.
As Michael Shear notes, both the campaign manager and spokeswoman from Giuliani's last run are working for Chris Christie, and the former mayor has yet to put together any sort of organization to mount a campaign.
Take a look: