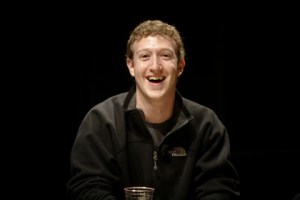 Facebook just raised $500 million, $450 million of it from Goldman Sachs and $50 million from the Russian firm Digital Sky Technologies, Dealbook is reporting.
That means Facebook is now estimated to be worth more than Yahoo, valued at about $21.7 billion.
Facebook surpassed Google, valued around $189.4 billion, in pageviews this year and the two companies are increasingly seen as competitors.
CEO Mark Zuckerberg has not said when the company will have a public offering, but Goldman's large stake ups the pressure to do so and suggests that Goldman may be the one to take the social media company public.
Goldman is hedging its bet a bit, however. Part of the deal gives Goldman the right to sell up to $75 million of its stake to Digital Sky Technologies, and Dealbook is reporting that the firm plans to try to resell its stake to investors using a "special purpose vehicle"–the same technique that recently came under scrutiny from the Securities and Exchange Commission.
ajeffries [at] observer.com | @adrjeffries