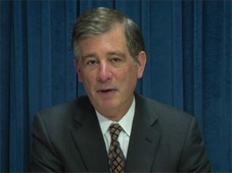 Deputy Mayor Stephen Goldsmith concluded prepared testimony by himself, Office of Emergency Management head Joseph Bruno, Sanitation Dept. chief John Doherty, and FDN commissioner Sal Cassano at the City Council's snow clean-up hearing by saying, "We didn't do the job you expected, we didn't do the job that residents of New York City expected. There are a lot of mistakes made, we acknowledge those. We're here to learn from those mistakes and promise to do better in the future."
The administration officials acknowledged that the city's snow removal efforts were sub-par, but said they were hit with a perfect storm of a holiday weekend which left some city officials unprepared and meant that many New Yorkers were returning home from out-of-town, and a near record amount of snow that fell with in a short amount of time.
The administration has been criticized for not declaring a snow emergency. Officials have said that a snow emergency, which would require residents to move cars parked on designated routes, would have created more gridlock and led to more cars on the road. Today, Goldsmith acknowledged that the city should have declared the emergency, saying that "an emergency declaration could have yielded a much more successful response."
Goldsmith also said that the city lacks the ability to get real-time information from workers in the field, and announced that every sanitation truck would be equipped with a GPS device and a two-way radio and that during snowstorms teams equipped with four-wheel drives and video cameras will be deployed to give real-time information on street conditions.