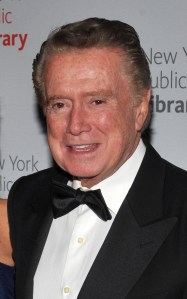 Say it ain't so, Regis!
Just minutes ago on "Live With Regis and Kelly" you announced that after more than 40 years on television, you will be leaving the air after this year.
"This will be my last year on this show," you said to your audience this morning, as your perky co-host looked on in rare tearful form. "But there is a time, there is a time that everything needs to come to an end for certain people on camera, especially certain old people."
Regis Philbin is 79 years old.
From 1988 to 2000, Philbin greeting early risers across the country with "Live With Regis and Kathie Lee." When Kathie Lee Gifford left the show in 2000, Kelly Ripa stepped into her shoes.
"I think I can only speak for America and all of us here when I say that it has been a pleasure and a privilege and a dream come true, and I wish I could do something to make you change your mind," Ripa told Philbin on air this morning.
If there's anyone who speaks for America, it's you, Kelly Ripa.
In one of the more memorable stages of his career Regis Philbin played ringmaster in the circus that was "Who Wants To Be A Millionaire," a flashy game show that captured some sort of cultural zeitgeist en route to soaring ratings and international ubiquity.
So, we know you say you're leaving, Regis, but we have to ask: Is that your final answer?