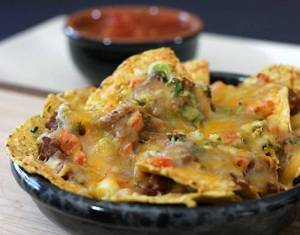 Think about it: when's the last time you saw a television in a decent restaurant?
The answer, we discover, is never. In his charming and helpful "Hey, Mr. Critic" column, The New York Times' Sam Sifton takes on the problem that's bound to frustrate die-hard sports fans with discerning taste. Can two bros chow on some sheep's milk ricotta gnudi with basil pesto — or maybe, God willing, some crispy pig's ear with lemon caper dressing — while watching the Jets-Pats game?
Such a mystical convergence of gastronomical delight and touchdown high fives does not, in fact, exist. Sifton gives the delusional game-time enthusiast a little talking-to:
You know why your favorite restaurants don't have a television on where you can watch the game?

Because restaurants that make it onto lists like yours don't generally have televisions on where you can watch the game. That's not a Zen koan, either. It's part of the Manhattan social contract, the same sort of understanding that keeps polka off the speakers at sushi bars and fluorescent lights out of bistros. Televisions don't belong in good restaurants.
Another rule to add to the book: no kids at Peter Luger, and no TVs in good restaurants.
And though Sifton can only muster one restaurant that boasts both quality food and quality coverage — Ouest on the Upper West Side — The Awl managed to round up its fave gameday eateries with "Sports Bars For Foodies, The Sports-Adverse." These spots might not all have the Sifton stamp of approval, but Hipster Handbook author Robert Lanham, who assembled the list, does assign a "Frat boy/meathead quotient" to each restaurant to forewarn potential patrons. Service journalism at its finest!
Click for What Twitter Taught Us: Piers Morgan Defends A Cell-Abusing Arianna