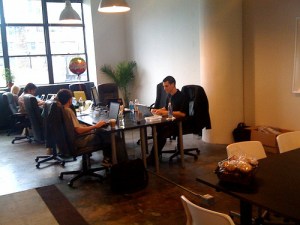 Google is sponsoring New Work City's NWCU, an initiative consisting of 12 to 15 recurring classes, workshops, and speaker panels created to offer members of the coworking community new skills and more opportunities to get together.
Google (GOOGL)'s developer relations team will be working with NWCU to develop hackathons, seminars, and other programming designed to teach people how to use Google's platforms, like Chrome, Android, App Engine or Google Maps.
The NWCU series will resemble the programs at places like the 92nd Street Y and WNYC's The Green Space, but with an atmosphere that's more like the South By Southwest festival or TED talk series, according to NWC.
"NWCU is the place where people can come and find the resources they need to be successful, and meet some great people at the same time," cofounder Tony Bacigalupo said in a press release.
Google joins NWCU's first sponsor, media company Pearson, which owns the Financial Times Group and Penguin Books. The sponsorship could be a sign that Google is paying more attention to the tech scene in New York, where it recently bought a 2.9 million square foot building for $1.8 billion.
ajeffries [at] observer.com | @adrjeffries