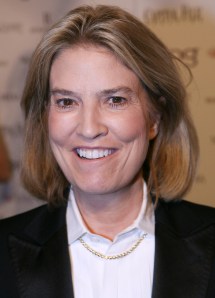 This week, CNN celebrated Piers Morgan's ascent to Larry King's anchor chair with a bash at the apartment of NewsBeast editrix Tina Brown. By all accounts it was a good party, despite the fact that its location, WWD discovered, had been transformed into Tina's "brainstorming" bunker where she's "assembling the team" for the magazine's new era (and, apparently, plastering back issues of Talk and Vanity Fair with well-placed Post-It notes).
It seems, however, that someone got a little sour at having been excluded from the cool kids' party. Media Decoder informed us that Fox News' Greta Van Susteren took to her blog yesterday with a mini-rant about the party, just the latest example of the glitz and excesses that she feels defines the elitism of CNN. Fox, she insists, would never waste money on such frivolity. A fancy-schmancy UES shindig? When there are viewers in the heartland who need to get their fair and balanced news? Shame, CNN, shame.
It is so different over here at Fox than CNN. I can't imagine Fox News Channel or friend of Fox News Channel having some fancy "launch party" at a fancy NYC upper east side address with a bunch of celebrities for a new cable news show. It seems so out of touch with the rest of the country, doesn't it?

At Fox we just get hired and go to work (and we are very glad to have our jobs!) We can celebrate later (and we have.)Maybe I am wrong, but since I have been here (9 years this month), I can recall no fancy launch parties for Fox News Channel programs or anchors. Of course we also have not changed our prime time programming in 9 years.
But hold on Greta — it seems even the down-home paragons of ethic at Fox News kick up their Louboutins and indulge in some good old fashioned excess. Media Decoder reminds of of the swanky little event Rupert Murdoch threw for the launch of Fox Business. Where was this party you ask? Well, it was held at the Temple of Dendur. In the Metropolitan Museum of Art. Which is on the Upper East Side. What would your fans in Kansas think, Greta!?
Apart from the fact that the Counting Crows played, this appears to have been a pretty swanky event. Not that The Boss had much to do with the music choice, as a classic Gawker party report reveals:
Adam Duritz began to sing the first unbearably crap lines of Long December. Was that Lauren Bush singing along softly? I tapped Rupert's shoulder.

He's shorter than I'd expect. He's also very powerful. I thought the best approach was informal. I gave him a pound. (Kidding.) Instead he enveloped my hand in his own soft hands and shook up and down. He feels like a cashmere doll. He had never heard of the Counting Crows. But he thought they were okay.
Click for What Twitter Taught Us: Piers Morgan Defends A Cell-Abusing Arianna