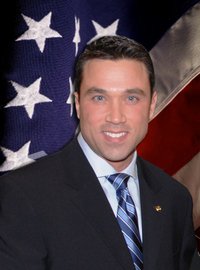 A sharp-eyed reader passed along the following article in Roll Call about how members with experience in law enforcement are responding to the Giffords shooting.
Staten Island congressman Michael Grimm, who, as we have noted has extensive experience in the FBI, floated a novel approach to keeping elected officials safe.
States Roll Call: "Grimm wants Congress to go a step further. He's proposing allowing Members of Congress or their staffers to be trained and deputized to carry a weapon and act as their own security force."
We reached out to Grimm's office for clarification yesterday and today, and they said that since the new congressman is at the G.O.P. retreat in Baltimore he would be unable to come to the phone.
However, Grimm spokeswoman Carol Danko said that the proposal would include members and staffers who are interested being deputized by the Department of Justice to essentially serve as Deputy U.S. Marshals. Doing so would allow them to carry weapons in the District of Columbia and in all 50 states without needing to register in each locale.
Danko said that Grimm has also hired as a staffer a former NYPD detective who will work in the district office and provide security, and has already given Grimm's district staff an introductory security workshop. (The Roll Call article notes that as a former FBI agent, Grimm "has long lived with the possibility that one of the people he met in his deep-undercover job might seek revenge on him.")
We reached out to Joe LaSorsa, a former secret service agent charged with presidential protection who now operates his own security firm, for comment.
"Ludicrous," he said. "They are not properly trained. They are not security professionals. The only thing it would accomplish is they would muddy the waters and people would get hurt. You want to provide security, hire security."
Danko said that Grimm had not taken up his proposal with Speaker John Boehner's office, so it looks like a long-shot at this point.