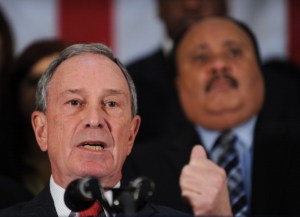 Two of the country's most committed supporters of gun control–Mayor Michael Bloomberg and Long Island Congresswoman Carolyn McCarthy–were quick with statements expressing their disappointment that President Obama did not mention guns in his State of the Union speech tonight.
"[I]n discussing the terrible tragedy in Tucson, he missed an opportunity to bring the country together on an issue that has support among the vast majority of Americans: fixing the nation's broken background check system that is designed to keep guns out of the hands of dangerous people," said Mayor Bloomberg, who yesterday called on the president to use the speech as an opportunity to press for better enforcement of gun control laws.
"Its absence was disappointing, but it will not slow the momentum we are building around the country, and in both parties, for common sense measures to strengthen law enforcement and improve public safety," he said in the statement.
McCarthy echoed that sentiment, and maintained optimism for her own bill to limit the number of rounds in magazine clips, despite the silence from the president.
"As an ardent supporter of reducing gun violence and a strong believer in government's ability to play a role in that mission, however, I'm disappointed that President Obama did not urge us to look at our nation's gun laws, as he did in his speech about the Tucson massacre earlier this month," McCarthy said in her statement. "Almost 100,000 people are shot in America every year, and only commonsense action – like keeping the most dangerous weapons out of the hands of the most dangerous people – will reduce that figure.
"But my plan to gain backing for my legislation is progressing, with new supporters every day, and I look forward to continuing that path and hearing from our president in the future."