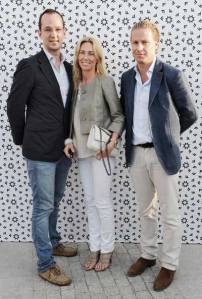 Oscar Engelbert has the flare of Donald Trump and the savvy of David Walentas, while making a name for himself at half their ages. The smartly dressed 34-year-old Swede has transformed a number of commercial and industrial buildings in his homeland into housing since founding Oscar Properties in 2004.
It only makes sense, then, that when looking for a Manhattan home, Mr. Engelbert would choose a glorified, gilded garage built atop a former impound lot in far West Chelsea. Yes, Mr. Engelbert has just purchased, according to city records, one of the few remaining units at 200 Eleventh Avenue, that notorious Annabelle Selldorf condo tower with "the sky garages." Each apartment has its own private parking space connected to the unit, which is served by a vehicle elevator that can handle a Hummer.
Like every unit in the building, Mr. Engelbert's $5.5 million spread is a two-story affair, with a 44-foot-long great room on the first floor facing the Hudson. If the Swede would sooner dine at Craft or the Red Cat than whip up his own meatballs and lingonberry jam, the kitchen disapears discretely behind teak doors. Though listed as a fifth-floor unit, it is actually more than 100 feet in the air, thanks to the building's duplex-on-every-floor configuration and its 11-foot ceilings–including a 23-foot double-height space in the living room.
"Enormous southern walls protected from direct sunlight are an art collectors dream," decalares the Douglas Elliman listing.
A master bedroom is found on the second floor, facing those luminous, loft-like windows, as well as one additional bedroom on each floor, tucked into the southeast corner.
Good luck finding another unit like it, as only one remains on the market, a 3,248-square-foot penthouse asking $12.5 million. The unit had reportedly gone to stars of stage and screen Keith Urban and Nicole Kidman, but as The Observer reported earlier this month, the couple bought a fourth-floor unit for $9.6 million instead. Former Whitney chair Robert J. Hurst recently picked up another penthouse for $14 million, and, in 2009, Demonico Dolce bought two of them for nearly $30 million. There is also a $6.8 million unit on the eight floor that has been in contract since July.
Mr. Engelbert could not be reached, and listing brokers Herve Senequier and Leonard Steinberg declined to comment.
The only outstanding question, then, is whether this is a pied-à-terre or simply another savvy investment. Well, that and whether Mr. Engelbert will be parking a Saab or a Volvo in his sky garage.