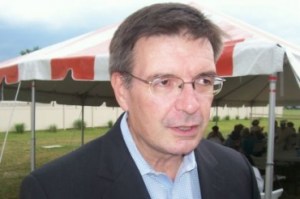 Mercer County Executive Brian Hughes announced at noon his plans to run for a third term as Mercer County Executive.
The Democrat's announcement came at the tail-end of a ceremony at the new county courthouse.
Surrounded by other County officials and ironworkers and standing beside his wife, Pamela, Hughes said, "When I look at this building just half finished, and when I see how much more we can accomplish in County government, this provides for me an excellent opportunity to announce I'm seeking a third term as County Executive.
"This (courthouse) needs to be finished, we need to continue to work to be released from the grips of this recession that has burdened us for far too long, and we will not walk away."
Hughes was first elected as county executive in 2003 and again in 2007 after serving on the freeholder board for two terms.