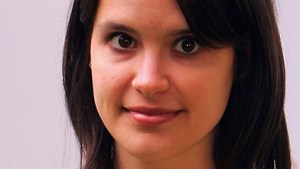 –A lot of people "were prepared to hate Nell Freudenberger," according to Curtis Sittenfeld's catty article titled "Too Young, Too Pretty, Too Successful." The news that Ms. Freudenberger has bought a $2.3 million Park Slope townhouse probably won't help.
One of The New Yorker's recently anointed prodigies, Ms. Freudenberger (35, by the way), is the daughter of TV writer Daniel Freudenberger and married to architect Paul Logan, 10 years her senior. The two have purchased the home, recently renovated by its current owner, Michael Terry, featuring a Roman archway, walk-in rain shower, skylights, a rooftop deck and a BBQ.
A writer who worked for The New Yorker at the tender age of 26 and is now in possession of a stunning 1887 townhouse with proper running water? The Observer is more than a little jealous.
–The rumored Bronfman buy at 810 Fifth Avenue is official. Charles Bronfman has bought businessman Eugene Ribakoff's grand sixth-floor unit for $21 million—exactly what he was said to have paid. That's still well below the original asking price of $25.5 million. But with one of the city's more expensive units finally off the market after nearly two years, we won't hear much complaining. Could this spell good news for the storied Nelson Rockefeller unit upstairs?
–Pharmaceutical exec Robert Karr and his wife, Suzanne, have sold their third-floor apartment at 300 West End Avenue for $5.75 million. The buyers are Alleghany head and AllianceBernstein director Weston Hicks, and wife, Ann.
–Former City Council member and 2010 comptroller candidate David Yassky's campaign manager just sold her third-floor unit at 45 East 85th Street for $3.225 million. Cathy M. Toren is now a director of development at the Brennan Center for Justice. Three relatives are also listed on the deed.
lkusisto@observer.com