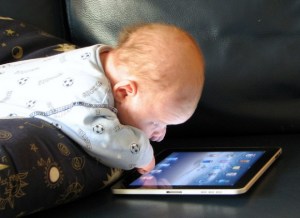 School budgets are being slashed left and right, but not when it comes to iPads at least in some districts.
Roslyn High School in Long Island, which is in the second-richest county in New York, hopes to eventually buy iPads for its 1,100 students at $750 apiece, The New York Times reports.
"I think this could very well be the biggest thing to hit school technology since the overhead projector," one teacher said.
And just when teachers were getting used to PowerPoint! But tablets are preferable, it seems: Not only do they replace textbooks but they're handy for completing homework. Plus, they impress the kids.
Some schools have serious Apple fever. Pinnacle Peak in Arizona converted an empty classroom into a 36-iPad lab and named it the iMaginarium. The Times says it "has become the centerpiece of the school."
The iPad is pretty useful and engaging, but is it really necessary to build your school around it? Maybe cheaper, smaller tablets would do?
Apparently not. Educators are eager to get their hands on the 5,400 educational iPad apps as well.
After all, who needs a Physics textbook when you've got Angry Birds?
ajeffries [at] observer.com | @adrjeffries