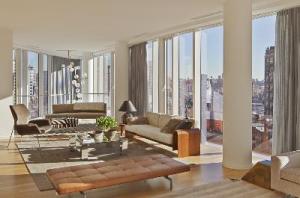 It's getting breezy outside, but not nearly as chilly as buyers' attitudes towards new condo developments.
This duplex penthouse at One Jackson Square has languished on the market for 2.5 years with a $21.5 million tag. The price has been cut to $18.95 million, but apparently the unit should also come with an instruction manuel. "With the glass walls, people, really needed help conceptualizing how to live in the space," said James Lansill, a senior managing director at Corcoran Sunshine.
The poor sob who's forced to live in a 5,600-square-foot penthouse with a fireplace and a double-height observatory will have our sympathy. In the meantime, check out the glass clunker that has all those luxury buyers scratching their heads.
Slideshow: Can You Ever Have Too Many Windows?
lkusisto@observer.com