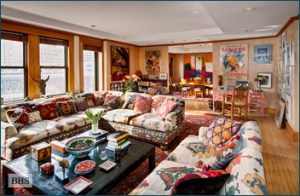 A couple of weeks ago, The Observer got wind that Upper East Side legend Elaine Kaufman's 86th Street co-op was going to be sold. Or was it?
In her will, Kaufman left the two-bedroom penthouse, where she lived for 25 years, to Elaine's restaurant manager, Diane Becker, sources confirmed. But co-executors Ms. Becker and her lawyer, Robert Tucker, wouldn't confirm the apartment's fate. With a few cool beads of sweat trickling down our forehead, we wrote the apartment would soon be for sale. Probably. Maybe.
Now The Observer has received official confirmation from Brown Harris Stevens that the apartment has been listed with the firm's Kathy Sloane, a friend of Kaufman's since the 1960s, when George Plimpton introduced the two in the restaurant. The price tag is a brave $2.995 million–well above the highest recorded sale in the building of $1.9 million.
Then again, that apartment wasn't the subject of international speculation or the long-time home of a George Steinbrenner baseball.
Now, if only we knew what will happen to the 400 dresses…
SLIDESHOW: Elaine Kaufman's Home Away From Home. >>
lkusisto@observer.com