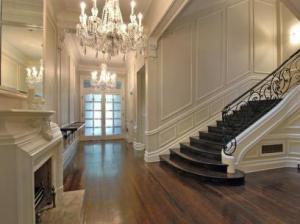 The Observer shed a tiny tear today upon learning that the pink paper's former home is seeing a touch of red.
The townhouse at 54 East 64th Street, wherein many a scandal was exposed, soiree recounted and witty headline penned, just got price-chopped by $2 milllion. The 10,000-square-foot mansion was listed for $27 million in April 2009, but as of yesterday it could be had for a mere $25 million.
Of course, we shan't forget that the Federalist gem was sold for $9.5 million in 2005 to developer doyenne Janna Bullock, who made a tidy profit when she sold it for $18.75 million less than a year later. The current owner is a Deloitte partner, but creative-types with a yen for Upper East Side glamour will be delighted to hear it's still certified for commercial use.
Slideshow: Salmon Paper's Townhouse Swims Downstream
lkusisto@observer.com