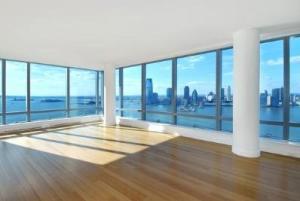 The Observer heard murmurings this afternoon that some coveted units at One River Terrace just came to the surface. And, sure enough, two corner units that can be combined into one just hit the market for $6.25 million.
While nursing that post-festival time hangover, and perhaps pinching those extra five pounds, it might just be time to think about the 50-foot lap pool, yoga room and some twice-filtered water and air.
With a stunning floor-to-ceiling river panorama, we would tell you to dive right in, but from the 29th floor it might be better just to enjoy the view.
Slidewshow: Take the Plunge at One River Terrace
lkusisto@observer.com