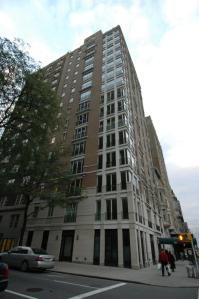 The condos at 15 Central Park West have been a huge success in large part because the building boasts modern amenities while parroting the look of many of the grand pre-war buildings that also line the Park.
353 Central Park West takes a similar tack a few years before and few blocks above Robert A.M. Stern and the Zeckendorf's masterpiece. What the 1992 building lacks in their detailing, it makes up for in price, as this 2,700-square-foot, full-floor unit on the 14th floor would probably be asking somewhere in the high-teens were it inside 15 CPW.
Instead, the four-bedroom, four-bathroom apartment, with better than most park views, can be yours for the relatively modest price of $5.999 million with Elliman's Susan Caplan. Just be sure there's some money left over to redecorate.
SLIDESHOW: That 15 CPW Feel Without the Sticker Shock.>>