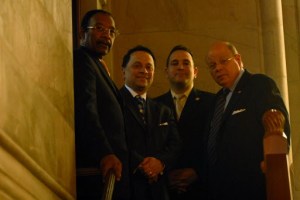 Yesterday we reported how Bronx state Senator Ruben Diaz Sr. called on the leadership to condemn the Independent Democratic Caucus–those four moderate Senators who refuse to back Majority Leader John Sampson–pointing out that he and his allies in the "Four Amigos" withstood a verbal barrage from the press and the party leadership when they refused to back then-majority leader Malcolm Smith.
"The Four Amigos were branded as traitors, banditos, and extortionists," he said. "We were labeled opportunists and thugs… Democratic leaders throughout the state used every chance they could to make pubic statements attacking us and our intentions…I'm listening hard but I don't hear even a whisper from any Democratic leader of their criticism of those Senators who have abandoned the Democratic Party. Is the snow muffling any outcry?… Are the actions of Hispanic legislators held to a different, higher standard? Has the Democratic Party decided those non-Hispanic Senators should determine what's best for all New Yorkers with no accountability?"
Today, the chairman of the state Democratic Party, Jay Jacobs, had a response.
"I would simply answer that I think the circumstances were different in terms of what the motivations were," Jacobs said. "I don't think you could put the motivations of this group beside the motivations of Pedro Espada and Hiram Monserrate."
However, as Diaz has pointed out, the Four Amigos were raked over the coals because there was an assumption that they held out merely to increase their own power–and indeed they were given plum posts after their holdouts–the same can be said for members of the IDC. They have each received committee chairmanships, and have accepted the lulu's that come with it.
When asked to clarify, Jacobs said, "Let me just say that their motivations were very different. I don't want to open old wounds."
Jacobs also said that there was a serious effort underway to lure the four members of the IDC back into the fold.
"The fact that there is less talk in the media doesn't mean that there is any less of an effort behind the scenes to bring everybody together," he said. "There is a serious effort by all the king's horses and all the king's men to put the caucus back together again."