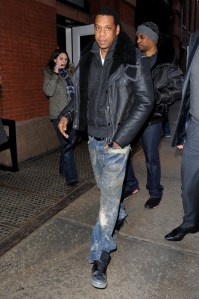 Watch out David Swinghamer. Jay-Z is about to give your new Shake Shack a run for its money. The rapper has invested in his cousin Jamar White's three-month-old wing joint on the Fulton Mall, the Post reports, and since word got out earlier this week, sales are up 60 percent at the Buffalo Boss.
"It's like 'the Oprah effect,' but it's 'the Jay-Z effect,'" White told the tab. "Business is booming because of [Jay-Z's involvement]. We got a lot of attention real fast."
The closest Jay-Z ever got to rapping about Fulton Street was a verse about the Albee Square Mall. But this investment could be another shrewd one for the $450 millionaire, given the Fulton Mall's mistaken gentrification (it's always been a smashing success, though now more than ever).