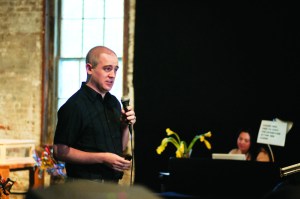 The iPhone will become available for Verizon customers in a few days, and New York City should steel itself for a pedestrian population more app-enabled and more dangerously distracted than ever. But the subway is another thing entirely. In the 3G-free underground, the iPhone is becoming the preferred tool for deep and engaged reading. iPhone apps like Instapaper and a cadre of Web-to-mobile curators mean New York City straphangers never again be caught with nothing to read.
It wasn't always this way. In 2007, Marco Arment was running out of things to read on his morning commute from Westchester to his job as a Web developer at Tumblr in the city. He had just gotten an iPhone that he used to read news sites, but he couldn't dig into the heavier stuff–the magazine features recommended and filed away during the busy workday–because they crashed the phone's Safari browser.
Mr. Arment designed himself the solution in a link-saving app for his own private use. When the App Store opened in early 2008, he put the concept up for sale, developing Instapaper, an app that takes online articles, strips them of advertisements and formatting and saves them as plain text in a library for reading off the iPhone.
The Silicon Valley crowd didn't get it. If I have an iPhone, why would I ever need to be offline? they asked. West Coast geeks don't have to take the subway every morning.
"I think that's why no one had built it before out there," Mr. Arment said.
Three years later, Instapaper has about a million users, is regularly one of Apple's featured or demo apps and is Mr. Arment's full-time job.
Instapaper's popularity is due, in part, to the fact that magazines are failing to keep up with mobile readers. For a magazine to offer an iPad subscription in the App Store, Apple demands a 30 percent cut plus all subscriber data. To maximize revenues, magazines largely opt instead to sell each issue as an individual app, at about five dollars per issue. The high cost alienates print subscribers, who are used to paying the rock-bottom subscription rates of about a dollar per issue but who also are the ones most habituated to their content.
After promising debuts, magazine iPad app sales dropped across the board at the end of 2010. Though the iPad is a fine luxury, the muddled subscription model means there's still no need to buy one, especially when the iPhone will do.
While print publications flap, a brainy contingent of iPhone-toting New Yorkers has stepped in to become the Web-to-mobile gatekeepers of print's most valuable goods: long-form journalism. The Web sites Longreads and Longform and others like BrainPickings, the Browser and Against Dumb collect the best writing of mobile-inept magazines–drafting their own fantasy magazine team with stars from the likes of the London Review of Books and The Nation–to make commutes from Brooklyn a bit more tolerable. With austere design and highbrow taste, "aggregation" is no longer a dirty word.
Longreads.com founder Mark Armstrong was working at the personal finance site Bundle in 2009. The rules for online writing then were "keep it short. Prime reader engagement time is Monday through Friday, while at work, and the person likely only has five minutes to spend while the boss isn't looking," he remembered.
When Instapaper was invented, Mr. Armstrong saw how it could change the time, place and circumstances for engaging with online content. The ability to take Web content offline, the iPhone's surprisingly agreeable page-shaped screen and social media like Twitter and Facebook "created this sort of moment for longer content to thrive," he explained.
"For that I think people need a filter for the noise. There's a lot of noise online," he said.
Longreads' filter is the Twitter hashtag #longreads, which Mr. Armstrong started using in April 2009. Anyone who tweets a link to an online story followed by the hashtag is submitting the story to be featured on Longreads Web site. (They have more than 13,000 followers.) There he gives each story a word count, an estimated reading time and a link to the piece on the publication's site, where it can be read online or bookmarked for Instapaper.
Unlike crowd-sourced Longreads, Longform.org is the personal curatorium of Max Linsky, a freelance writer, and Aaron Lammer, an editor and Web designer. They met as undergrads at Wesleyan and live in Brooklyn. The duo scour Internet archives for the arcana of long-form journalism, regularly posting stories originally published in the '60s and '70s ("Peter O'Toole on the Ould Sod," Gay Talese, Esquire, Aug 1963) that have never had a social media life. The Longform site reflects Mr. Lammer's conversion. Longform allows readers to bookmark an article for Instapaper or Read It Later directly, bypassing the visit to the magazine's advertisement-laced site.
Although their Web sites help people evade their favorite magazine's revenue streams, the founders of Longform and Longreads are optimistic about the future of the magazines.
"Longform gives these stories a second life," Mr. Linksy said.
But no matter how carefully curated or widely retweeted, reading journalism on Instapaper is detrimental to a magazine publisher's business model as it stands. It takes eyeballs away from the page that hosts the ads. For the time being, it's possible that Instapapering habits simply haven't penetrated deep enough to be on big publishers' radars. Mr. Arment has an opt-out option for publishers, but so far only one has taken him up on it.
The role the iPhone and Instapaper had in this mini-renaissance for long-form writing should be a warning sign to publishers, according to Mr. Arment.
"Google's taking ad money; the classifieds went to Craigslist; and Apple's taking everyone's subscriber information," he said. "The challenge for publishers now is how do they stay in business and grow while only doing the journalism part. The result of all this is that publishers are forced to play on Apple's terms."
If the end game is still a matter of rounding up engaged, loyal readers, perhaps Apple's terms aren't the wrong terms to be playing on. Web browsers (as their name would suggest), are terrible for keeping eyes on the screen. By stripping the flash ads and the videos, Instapaper makes iPhones and iPads feel like books. Offline reading app Read It Later (developed by Nate Weiner in San Francisco) found that users who have mobile reading devices virtually ignored their computers during prime reading hours, after work, in bed.
"People want to support long-form journalism, and people want to be able to control when and how they read it," Mr. Armstrong said.
Like a print magazine, of course.
kstoeffel@observer.com :: @kstoeffel